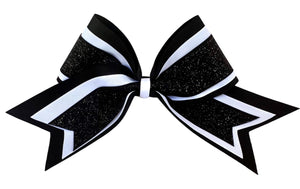 ***Orders containing 6 or more hair bows may have a 1-3 day lead time for shipping. If you have questions regarding a team order for shipping times or customized colors, please feel free to give us a call or use our chat option.***
This handmade, customized hair bow is designed so that it will hold its shape through the toughest conditions. Designed to last season after season, it is made with high quality treated grosgrain ribbon that holds its shape and color, a nylon hair tie to guarantee it does not bust or pop when securing in hair, and sealed edges to prevent fraying. 
Our goal is to make the best hair bow in the country, and we feel like we did just that. 
Sports: Cheerleading, Softball  
Made in Chattanooga, TN. 
Contact us for customized team orders.