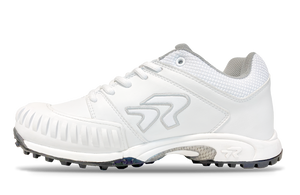 DESCRIPTION: Ringor Flite Turf Shoe - Pitching Toe Women's White/Silver 
The most durable and comfortable softball turf shoe. Made specifically for the game, this shoe will take you from indoor practice to the turf field on game day. 
Speed. Agility. Quickness. In softball speed matters. At Ringor our goal is to provide each player with the edge they need to perform at their best. The new RINGOR FLITE softball Turf was designed to give you a quick first step. Never has there been a softball turf that combines this much lightweight comfort with the durability you have come to expect from Ringor. Take FLITE this season as you round the bases.
Outsole: Studded Rubber Turf 
Upper: AeroLite with rubber pitching toe on both shoes
Insole: Removable Anti Odor 
Midsole: Full-Length REVA
Ringor turf shoes are made specifically for women. For a proper fit Ringor recommends you order a half (1/2) size larger than your every day athletic shoe size.