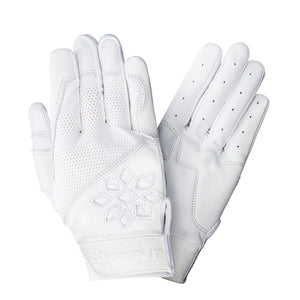 Product Benefits
Durable Material.

Constructed with 100% leather offering softness, durability, and flexibility.

Athlete Ventilation.

Designed to fit the softball athlete. Engineered ventilation at fingers and glove face for breathability.

Moisture Wicking.

Breathable, anti-microbial performance mesh face manages moisture for ultimate comfort.

Targeted Padding.

Strategic target padded protection to prevent blister control.

Comfortable fit.

Dual-layer padding adds protection and form-fitting comfort.

Adjustable Cuff.

Engineered logo velcro closure for custom wrist fit.