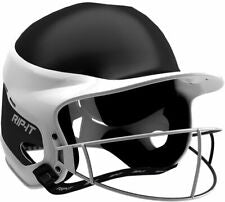 Nothing should hold you back. Not fear. Not doubters. Not opponents. And definitely not your softball gear. With RIP-IT softball helmets, nothing comes between you and your best at-bat. So step up to the plate and swing with unwavering confidence.

PRODUCT BENEFITS
SEI certified to meet NOCSAE standard.
Better visibility. Wider field of view and better peripheral vision than any other fastpitch helmet.
Eliminates glare. Blackout Technology coating inside bars eliminates distracting glares.
Moisture-wicking. Wrapped padding manages dampness and reduces irritation.
Ultra-lightweight. Designed to reduce weight without sacrificing strength.
Comfortable fit. Dual-layer padding adds protection and form-fitting comfort.
Cooling technology. 21 strategically placed air vents keep you cool.
Policy: Protected under Peace of Mind Policy. Register your product.